Stroke Survivor Les Coburn
From stroke patient to stroke volunteer: the care that made it possible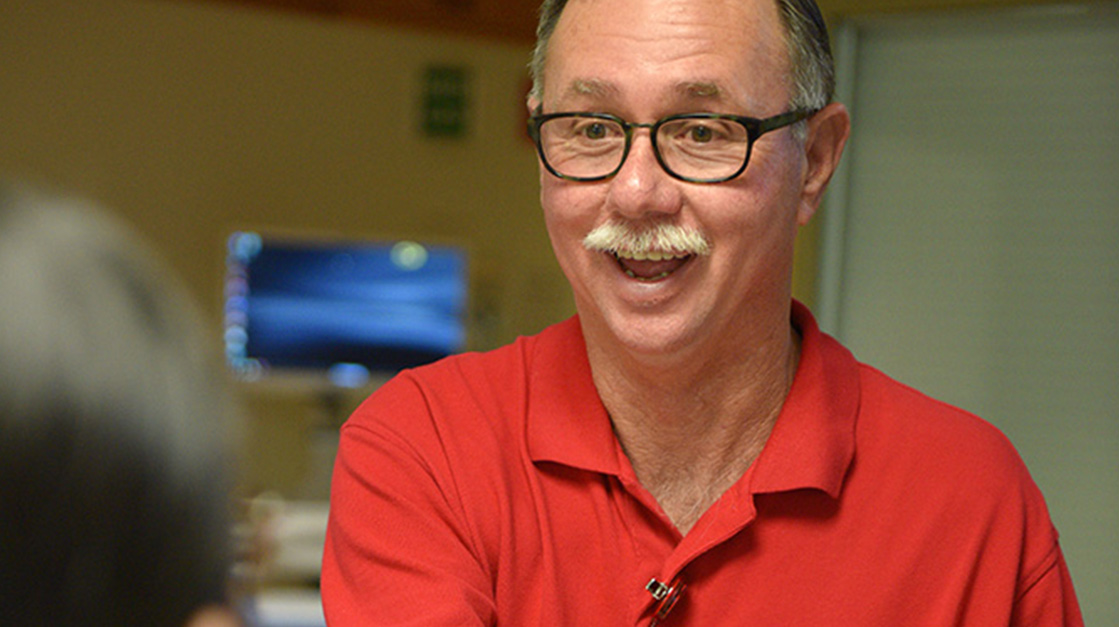 A Sunday in October 2016 was like so many others for Leslie "Les" Coburn, a now 64-year-old Virginia Beach resident: He spent the first part of the day in church serving as an usher. Then he and his wife of 35 years, Mary Jane, decided to stop by a grocery store. That's where the day turned from typical to atypical.
While he was shopping, Les' left arm went numb; he drooled; and he felt like he had been hit in the chest.
"I remember thinking 'they got me!'," he says.
Details after that moment aren't clear to Les, but he soon had help from the store's staff and Ann Kay Walter, RN, a Sentara Healthcare nurse who happened to be nearby and suspected he had a stroke. An ambulance arrived and transported Les to Sentara Virginia Beach General Hospital. At the hospital, he was given tPA (tissue plasminogen activator), a drug that can help breakdown blood clots that cause strokes.
Les was also evaluated for possible endovascular intervention. Because his clot was large, he was indeed a candidate. With larger clots, the clot-busting drug is not typically completely effective; additional endovascular treatment is routinely needed. Les was immediately transferred to Sentara Norfolk General Hospital, where an embolectomy, a clot retrieval, was performed.
"Mechanical embolectomy is the standard of care for large cerebral artery occlusions," says Sarah Cullen, DNP, ACNS-BC, RN, the stroke program coordinator at Sentara Norfolk General Hospital. "Sentara Norfolk General Hospital has been performing this procedure since 2005."
The 40-minute procedure involves inserting a small catheter into the groin through an artery and up to the brain. The doctor then has access to remove the stroke-causing clot.
"Dr. Wilson Daughtery explained to me that Les' stroke had been a very large one," says Mary Jane. "We were so glad he had the clot removal, but the doctor was still cautious. He told us he wasn't 'sure where we'd go from here.'"
Day by day, though, Les recovered, first starting to breathe on his own again and later re-learning how to walk and talk. He went through rehabilitation at Sentara Norfolk General Hospital while still a patient and continued with outpatient rehab for months after.
"Les struggles with dexterity on his left side and with speech," says Mary Jane, "but he's come such a long way, especially considering what lasting effects we might have faced."
Now on disability from his former job as an assistant foreman in the machine shop at a shipyard, Les goes to Sentara Norfolk General several times a week. He's no longer a regular patient there; he's a volunteer.
"He wants to help other stroke patients," explains Mary Jane. "He talks with them and tells them what he's been through and what they can expect. He listens to their concerns and answers questions." Monthly, he leads the Sentara Norfolk General Hospital Support Group, which he and Sarah Cullen founded. The support group offers stroke survivors resource information, such as physical therapy, occupational therapy, music therapy and social work.
"Les is extremely devoted to helping our stroke patients recognize that although stroke is life-changing it does not have to be life-ending," says stroke program coordinator Sarah.
Les also recently visited Sentara Norfolk General to honor Ann Kay, the nurse who helped him moments after his stroke, by nominating her for a Stroke Hero of the Year award. At the ceremony, he proudly retold his story and formally thanked her for not only assisting him, but also his wife.
"You ran toward a very difficult situation," Les said of Ann Kay in his nomination for the award, "and you didn't run the opposite way."
Living Well After Stroke
More than 6 million Americans are stroke survivors. Learn how to live well after a stroke.