Stroke Survivor Kelly Via
Treating a wakeup stroke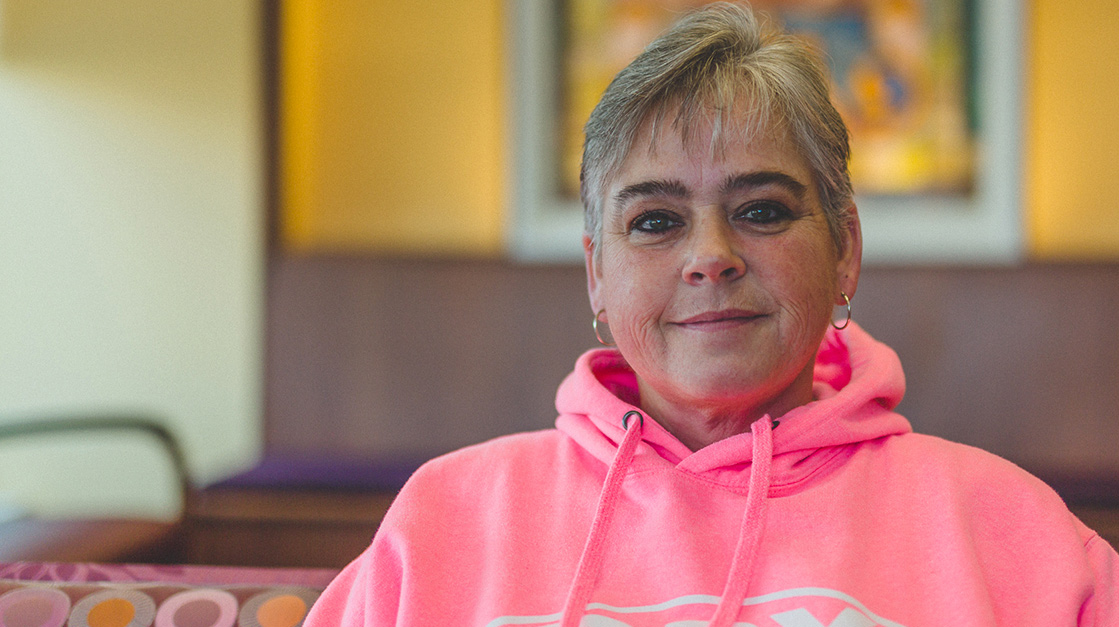 Kelly Via, a 48-year-old bartender in Luray, Va. didn't hear her alarm going off the day after Christmas, but her boyfriend, Steve, did. He had gotten up earlier and knew something must be wrong when he couldn't hear Kelly moving after 20 minutes.
"He came into the room, and I tried to stand up, but I couldn't get to him," remembers Kelly. "He helped me back into bed."
Steve, who had suffered a stroke before, asked Kelly to raise her right arm.
"My arm would not move and my face was drooping on the right side. From his experience, Steve knew these were signs and symptoms of stroke," says Kelly.  "That's when he called 911."
An ambulance came quickly and transported Kelly to Sentara RMH Medical Center in Harrisonburg. While in route, the EMTs notified the hospital's Emergency Department staff that they were transporting a stroke patient to Sentara RMH.
An Emergency Department physician, Christina Johnson, MD, was waiting to evaluate Kelly. Upon arrival, Kelly was quickly transported to Imaging Services where a CT scan of her brain was taken. The CT scan showed that she had a blood clot in a major blood vessel in the left side of her brain that was blocking blood flow. With a stroke, the longer the clot blocks blood flow, the more damage there is to brain cells.
"There are times when we aren't able to do intervention, if there has been a great deal of brain damage with a stroke," says Janet Marshman, stroke coordinator at Sentara RMH Medical Center.
"When a person has a wakeup stroke—where they awake with stroke symptoms the way Kelly did—we typically don't give the clot-busting medication Alteplase in those cases because we don't know the actual time of onset of stroke symptoms," continues Marshman. "With a wakeup stroke, all we know is when they were last known to be normal and when they work up with the symptoms. Fortunately, in Kelly's case, we had another treatment option, thrombectomy, which is offered at Sentara Martha Jefferson Hospital in Charlottesville, our sister hospital in the Sentara Blue Ridge Region."
John Gaughen, MD, a neurointerventional radiologist with Sentara Martha Jefferson Hospital, performs thrombectomy procedures and works closely with Sentara RMH Medical Center and Sentara Martha Jefferson to treat stroke patients who need this type of treatment.
"A thrombectomy," Dr. Gaughen explains, "is a procedure in which we insert a small catheter (tube) through the groin or wrist into the stroke patient's head. Through this catheter, we use instruments that remove the clot and restore blood flow to the brain."
In many cases like Kelly's, when a stroke patient at Sentara RMH needs neurointervention, an air ambulance transports the patient to Sentara Martha Jefferson Hospital. However, on that late December day, fog grounded the air ambulance, so Kelly was safely taken to Charlottesville by medical transport.
"When I got to Sentara Martha Jefferson, they took me into a room that was dark, like an X-ray room, "says Kelly. "I could see Dr. Gaughen with something like a TV screen above me so he could watch what he was doing inside the arteries."
Dr. Gaughen performed the thrombectomy. The procedure took less than an hour.
"I didn't feel much during the procedure," says Kelly. "Then I went to my hospital room. When I saw my family waiting, I couldn't understand why they looked so sad—or even why they were there. I wasn't talking all that well, but I could talk, and I could move. I felt OK!"
Kelly says her three-day hospital stay went quickly. Today, she is back to her regular routine and doing well.
She says she enjoyed interacting with the "nice and friendly staff" at Sentara Martha Jefferson, especially the doctor who helped her so much when she first arrived.
Living Well After Stroke
More than 6 million Americans are stroke survivors. Learn how to live well after a stroke.